Sixth Championship
and HHP Cat Show
Presenting the A-CAT-emy Awards!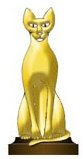 January 31 and February 1, 2004
Ramada Inn & Suites Riverfront
2500 Edwards Drive
Fort Myers, FL 33901
The Show Hall is located within the Show Hotel
Located 3 miles west of exit #141 off I-75
Closing Date: January 20, 2004, or when full! (225 entry limit)
Judges
| | | | | |
| --- | --- | --- | --- | --- |
| Frances Yow | AB | | Nancy Parkinson | AB |
| Robin Higgins | AB | | Pamela Barrett | AB |
| Pamela Barrett | SP | | Dewane Barnes | AB |
| Vickie Shields | AB | | Fate Mays | AB |
| Adriana Kajon | AB | | Judy Chappetta | AB |
| Chris Unangst | SP | | Michael Hammond | SP |
teriw@bellsouth.net
(954) 475-8285
Vend/Sponsors
LoriPiper@worldnet.att.net
For information about vending space and sponsoring a ring or sponsoring special awards
(239) 455-5787
Information
JuchaJ@aol.com
(239) 353-9087
Entry Clerk
10765 Cleary Blvd., Apt. 208
Plantation, FL 33324
Phone: (954) 473-8085
No calls after 9 PM PLEASE!
Special Events: Teddy Bear Fun Ring - Oscar Night for the BEARS! Bring your favorite bear(s), that's right - bears - not cats - for a fun judging. We will have special awards for the biggest bear, the smallest bear, and bears depicting the show theme of the A-CAT-emy Awards. No bear will be turned away!
All proceeds from this ring will be donated to a needy feline organization. Each entry is $5.00.
We know you have bears, so bring them out to the A-CAT-emy Awards - while you support a great cause!

Show Theme: And the Winner is …There will be special prizes for the best "Oscar Night" decorated cage, and for the best actor or actress look-alike among the exhibitors. Plan on fun as we celebrate the
A-CAT-emy Awards!

Show Hall: Ramada Inn & Suites Riverfront - Conference Center/Ballroom, 2500 Edwards Drive, Fort Myers, FL 33901. No cats may remain in show hall overnight. Smoking is not allowed in the show hall.
Show Hotel: Ramada Inn & Suites Riverfront, 2500 Edwards Drive, Fort Myers, FL 33901, phone (239) 337-0300. Cat show rate is $69 per room and $79 per suite plus tax. Cut off date for rooms is 1/16/04. Please make your reservations early - Hotels fill in Fort Myers, this time of year! The alternate hotel is La Quinta Inn, 239-275-3300.
Show Hours: Check-in begins at 8:30 AM. No one is allowed in the show hall until then. Judging will begin promptly at 10:00 AM on Saturday, and 9:00 AM on Sunday. Published show hours will be from 10:00 AM to 5:00 PM Saturday and 10:00 AM to 4:00 PM on Sunday. In consideration of our paying spectators, no cat will be allowed to leave the show hall before 4:00 PM without the permission of the show management.
People Food: A food concession will be provided by the Ramada Inn. Please support our show hotel!
Transportation: The Ft. Myers Airport is the closest and most accessible airport. The Ramada Inn has airport shuttle service. An alternate airport is the Tampa International Airport.
Registration: With the exception of Korats, registration with TICA is not necessary to compete in the cat's first show, but is required for the 2nd and subsequent shows and for confirmation of championships and TICA Regional and International awards. Please contact TICA for registration forms and information (TICA, P. O. Box 2684, Harlingen, TX 78551).
Show Rules: TICA Show Rules will be strictly enforced. By entering, all exhibitors agree to abide by the decisions of the judges and show committee. Official show rules may be obtained from TICA for $7.00 [TICA, PO Box 2988, Harlingen, TX 78551].
Benching and Health Rules: All exhibitors must check in at the door prior to benching. This is a non-vetted show. Cats showing signs of earmites, fleas, fungus, or any illness will not be permitted in the show hall. Any cat or kitten from a house or cattery where there has been fungus or any infectious or contagious illness within 21 days prior to the opening date of the show is ineligible for entry and /or exhibition. All entries should be immunized against feline rhinotracheitis, calici virus, and feline enteritis, and should be tested negative for feline leukemia and feline AIDS. Florida State law requires rabies inoculation. All claws (front and back) must be clipped prior to judging.
Kittens and Cats for Sale: Sales cages will be available to exhibitors only at an additional fee of $30.00 each (see summary sheet). Kittens for sale must be at least 3 calendar months old (born on or before 10/31/03). Proof of age (i.e. litter registration) must be presented on request to show committee. Two kittens or one cat are permitted in a single cage. NO KITTENS OR CATS MAY BE CONFINED TO CARRIERS, EITHER DISPLAYED OR UNDER CAGES, DURING SH0W HOURS. Any person disregarding these rules will be asked to leave the show. If you have kittens for sale, please contact the show managers for information about Florida State Law pertaining to kitten sales. Felines del Sol will not be held liable if you do not abide by these laws.
Kittens: All kittens entered for competition must be at least four (4) and not more than eight (8) calendar months old on the day of the show. Kittens may be spayed or neutered.
Household Pets: Household pets are very welcome at this show! Declawed Household Pets are OK at TICA shows. This is due to the number of HHPs that are rescue cats and may have already been declawed at the time of rescue. Household pets over 8 months of age MUST be spayed or neutered. HHP's are judged in 10 divisions. If you are unsure of your cat's color and division, please contact the entry clerk for help or send a color photo of your entry. Photo will be returned at check in.
Supplies: Litter will be supplied by the club. Please bring your own litter box, cat food and food dishes. A single cage (approx. 22x22x22) is provided for each entered cat. A limited number of double cages (22x22x44) will be available on a first come, first served basis at an additional fee (see summary sheet). NOTE: you get a double cage automatically when you enter two cats, of course they must share the cage. For your cats comfort, the top, sides and bottoms of cages must be covered.
Clerks/Stewards: Ring Clerks will be paid $35 per day plus a fully marked catalog and a lunch voucher. Stewards will receive $10 per ring per day and a lunch voucher. Please check the summary sheet if you are interested. Do not deduct clerking fees from your entry. (It really messes up the bookkeeping.)

Awards: Rosettes will be awarded in accordance with TICA Show Rules. This show is scored for TICA Regional and International awards. Breed awards will be presented as available. Best of the Best Awards will be presented (Best of the Best Scoring will exclude any congresses). Scores will be based on finals points, with ties to be broken by number of cats defeated.
Liability: Neither Felines del Sol or TICA will be held liable for injury, loss or damage to cats, exhibitors, property of exhibitors, vendors or other such persons or property in attendance.
Please indicate whether you accept or do not accept all of the following by clicking on the appropriate button below:
1. I will enter my cat(s) at my own risk, subject to the conditions in the Show Rules of THE INTERNATIONAL CAT ASSOCIATION and will abide by the rulings of the Show Committee

2. I understand that transmission of one or more of the E-Mail Entry Forms accompanying this flyer constitutes an agreement to pay for my entries even if I fail to bench.

3. I will mail a check payable to Felines del Sol covering the entry fees for this show within 24 hours of submitting the form(s) to the designated Entry Clerk.
Web Page Designed and Maintained By
DeLWeb Designs and Services
Copyright © 1999-2003. All Rights Reserved.
NOTE: Any information inserted below this line was done without the consent of Felines del Sol or the SE Region. It was inserted by Tripod as part of their advertising venue.
Felines del Sol, the SE Region, and TICA do NOT endorse any of this added information!!